---
Parcele suas compras
nas melhores bandeiras
Description
STRAIGHTEN YOUR HAIR IN A FEW MINUTES WITH THE 5 IN 1 STRAIGHTENING BRUSH!
In the rush of everyday life, what we need most is practicality! And, when it comes to taking care of your hair, having a solution that is practical and, at the same time, delivers more possibilities with excellent results, is a dream come true!
The 5 in 1 Straightening Brush is the innovation that arrives to solve your look in a very easy way, without you depending on anyone!
Technology of the biggest salons, inside your home!
The Brush has

ceramic plates

that guarantee the

continuous heating of the brush

, neutralizes frizz and helps to untangle the wires

.
Safe, practical and does not harm the wires

The system of more than thousands of negative ions allows you to straighten and hydrate your hair without damaging the strands , giving your beautiful hair more shine !
Healthy and Shiny Hair
The 5-in-1 Straightening Brush
provides a lively and bouncy effect, doesn't put pressure on the hair completely instead of a flared look and makes the hair easy to manage. Just brush your hair once and dull hair is left looking shiny and sleek.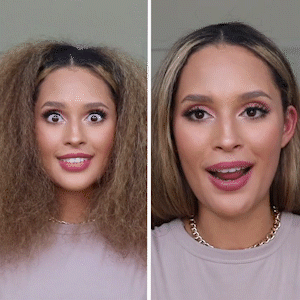 Advantages and Benefits

of the 5 in 1 Straightening Brush:
patented technology,

 

accurate temperature, safe, fast and powerful heating
Ceramic plates , it gives more movement to the wires as it does not flatten the hair
Easy and fast to use,

 

eliminates frizz in the first pass allows smoothing from the root protecting the scalp to the ends of the strands
Customize the ideal temperature,

 

allows you to choose between 5 temperature levels and prevents hair damage
design

 

safe , allows you to reach the root of the hair without suffering burns
ready to use,

 

heats up in less than 40 seconds
more professional,

 

does not flatten the hair like traditional flat irons
For all times , suitable for all hair types
5 Temperature levels, for all hair types
Just turn it on and wait 30 seconds for it to heat up and you can go through your hair strands. Perfect Hair has 5 specific heat temperatures for any type of hair - from curly to straight - reaching over 150ºC.
How it works?
Its brushes have a triangular design that eliminates frizz.

 

right on the first pass.
Each strand is automatically smoothed and divided into finer strands within the brush, saving time and

 

ensuring impeccable straightening

 

of the wires.
Usage mode:
Untangle your hair and separate it into sections.

Hold each strand firmly by the ends.

Attach the Brush to the strand and slide it along the wires.

Shape the ends of the hair as desired (curving them inwards or outwards)
Specifications:
Product Gears:

 

5
Rated voltage:

 

Bivolt 110v-220v
Rated frequency:

 

50/60hz
Rated power:

 

45w
Diameter heat conductor:

 

15mm or less
Best modeling time:

 

1-2 minutes
Heating temperature:

 

about 130 degree-200 degree
Contains:
1x Straightening Brush 5 in 1 - Bivolt
EXCLUSIVITY
Free delivery + 7 days warranty
Click the BUY NOW button and get your Free Delivery and 7 Days warranty!
Pagamento Seguro
Your payment information is processed securely. We do not store credit card details nor have access to your credit card information.